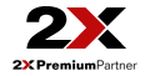 Instant-axess.co.uk is the place to buy all of your 2X Software products. We are the only 2X Premium Partner in the UK (www.2x.com) and we have the entire 2X Software range available for you to purchase securely online.
Our 2X Premium Partner accreditation means that we are able to provide you with the best levels of technical knowledge, customer care, and pricing to ensure that your 2X software solution meets your specific needs and your budget.
We can help you design and install your 2X Solution.
Our technical consultants are certified to '2Xpert' level and have installed 2X solutions in education, business, and public sector organisations. So if you require any design or installation services, please call us on 08000 23 22 26.
For upgrades, pre-sales and technical support , please call us FREE on 08000 23 22 26
You can find out more information about 2X Software here: www.2x.com